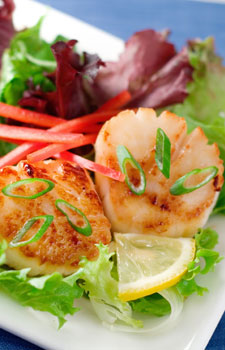 "The food was fabulous and everyone enjoyed the diversity of the menu. The service provided was excellent and professional. Everyone had a wonderful time, and there were enough leftovers to enjoy another meal...Thanks to you for your fine planning and to the chef for his excellent culinary abilities." --Mary
Something Savory is a catering firm like no other. It was born out of the partnership of two people with incredible skill and passion towards food and service.


Executive Chef & Owner
Johnny Levins began his career in the U.S. Virgin Islands under the tutelage of famed French Chef, Patricia LaCorte. During these years, John became known for his extraordinary sauces, influenced by the elegance of French cuisine and the zest of Caribbean flavors.

During the 1980s, Levins worked with many of Boston's preeminent chefs at the legendary Harvest restaurant. After working for several years in New York and New England, Levins found a home at the Green Street Grill in Cambridge. It was here, utilizing wonderful fresh ingredients, spices, fruits and herbs from the tropics that he made a name for himself as one of Boston's most popular chefs. After a brief stint opening Soma in Beverly, Mass., John decided to apply his craft towards catering full time.

In 1998, Levins received The Third Annual Howard Mitchum Memorial Medal for Innovation in Seafood Cookery from the Boston Phoenix.




Director of Services & Owner
Jodi Auerbach, a graduate of the world-renowned Cornell School of Hotel Management, brings her love of fine dining and passion for service excellence to this partnership. Jodi began her career at the Boston Harbor Hotel during its inaugural year. First, as manager of the hotel's elegant Rowes Wharf Restaurant, then as manager of the catering department, Auerbach proved to be a natural talent. Her strong work ethic and commitment to detail produced flawless affairs that kept guests coming back for more.

Following her successes at the Boston Harbor Hotel, Jodi developed catering divisions for some of Boston's most popular restaurants, including the Elephant Walk, Rocco's and the Green Street Grill.