August 7, 2008 (blog)

February 27, 2008

December 14, 2007

December 6, 2006

October 11, 2006

August 6, 2006

Former Green Street Grill chef brings
Caribbean roots and French technique
to his new endeavor
July 13, 2005
Savory chef has something for all

Former Green Street Grill chef brings Caribbean roots
and French technique to his new endeavor
February 27, 2008| Simone Press, Chef's Special

Name: Johnny Levins
Age: 49
Title: Chef and part-owner Something Savory
Residence: Arlington
Education: Charlestown Secondary School, Nevis
Career highlight: Teaching children's cooking classes with anti-hunger organization Share our Strength
Family: Married, one son
Ingredient of the moment: "Tangerines - they have started to come into season. . . and provide fresh flavors."
Favorite home dish of the moment: Pilau, with salt cod, chicken, beef and beans
Favorite kitchen gadget: "A mandolin, because you can do a lot of different things with it and create a lot of different shapes."
Best cooking tip: "You need to get your pan hot when you're cooking. It's the simplest thing, but so many people start to cook in cold pans or warm pans. Hot pans are just better."
Restaurant of the moment: "El Oriental de Cuba in Jamaica Plain - they serve really rustic, robust food."
Three refrigerator essentials: Hot chili peppers, hot mustard (more than one kind) and coconut juice
Pan-seared Tilapia with mango, basil, and green peppercorn sauce
Serves six
6 T. olive or vegetable oil
6 tilapia filets, 6 oz. each
Salt and pepper
1 T. chopped shallots
1 t. fresh minced garlic
1 large mango, peeled and diced
1/2 c. white wine
1/2 c. tangerine or orange juice
1 t. crushed green peppercorns
1 large T chopped fresh basil
4 T. butter (1/2 stick)
Lime wedge
6 lemon wedges
Julienned basil for garnish
Preheat oven to 350 degrees. Heat oil in a large saute pan. Season fish filets with salt and pepper and sear the filets for 2 minutes on each side, in batches if necessary. Remove filets to a lightly oiled baking sheet and set aside.
In the same pan, gently saute the chopped shallots, garlic and diced mango for about 4 minutes. Add the white wine, tangerine or orange juice and the peppercorns. Increase the heat, bring the mixture to a boil, then reduce the heat and let the sauce simmer until reduced in half and thick enough to coat a spoon.
While the sauce is reducing, put the filets into the oven and bake 3 minutes per side. Whisk the butter into the sauce, add the basil, salt and pepper to taste and finish with a squeeze of lime. Pour the sauce over the fish and serve, immediately, garnished with lemon wedges and julienned basil.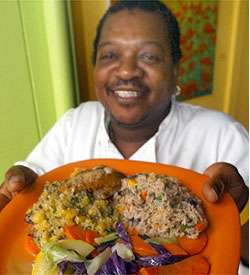 Chef Johnny Levins displays pan-seared tilapia with mango, basil and green peppercorn sauce. Photo by Patrick Whittemore.